>

>

Editing and Proofreading Services
Editing and Proofreading Services
As a student, undergraduate, teacher, or professional writer, you might have experienced how time-consuming and dreary editing can be. The question is what makes editing and proofreading so complicated? How come you encounter more difficulties with editing than with writing itself? Isn't writing supposed to be more complex? Not necessarily.
Editing and Proofreading Services Fitted for Your Needs
Editing is a practice that shouldn't be skipped or underrated. Although your paper is written in a witty, engaging manner, and the angle you embrace is the right one, if, however, you don't proofread, or edit your work before submitting it, your work may be featured by a range of shortcomings. Hence, even though you're a talented, original writer, you shouldn't reject editing from the start, since each piece of writing, nonetheless of difficulty level, should be edited.
Choose our editing and proofreading services – created to meet your needs
Let's imagine a scenario – you have put a lot of time and effort into completing an excellent paper, which enlists intelligent ideas and points. Moreover, your instructor outlined that he/she appreciated the way in which you embraced a fresh angle on an overly frequently met topic. However, at the same time, he/she was rather uncomfortable mentioning that he/she noticed an abundance of grammatical and formatting errors, which jeopardized your grade. Sounds familiar?
This is a run-of-the-mill, typical scenario, which occurs to those who underestimate the importance of editing and proofreading. If you acknowledge that editing is the final step that shapes an excellent paper, you should consider the services provided by SupremeDissertations.com, which consists of thesis editing services, dissertation editing services, as well as thesis proofreading services.
Why select our dissertation editing service?
Although you recognize that editing is a practice you shouldn't skip before submitting your paper, there are some reasons why you shouldn't do this job yourself, and, instead, choose professional assistance. Why is that? The odds are you're prone to get across various challenges, which is why SupremeDissertations.com has taken on the responsibility to provide assistance to students.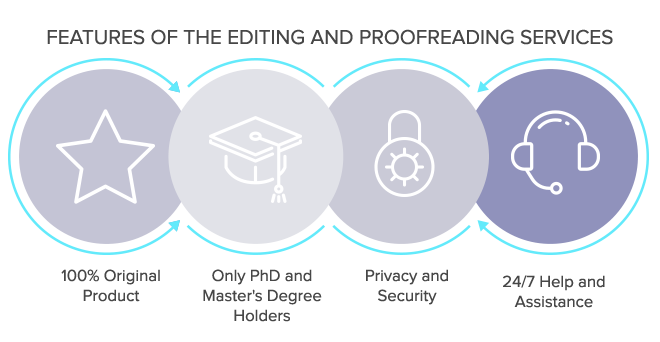 Let's have a look at the difficulties you're prone to encounter.
Editing your own dissertation is challenging
In the case in which you've considered editing your papers, particularly a more elaborate one, such as a thesis or dissertation, you reckon that it is no piece of cake. Hence, you might have looked for professional thesis proofreading assistance. In this instance, even though editing doesn't seem, at first sight, an overly complicated undertaking, it is much more challenging than it appears to the naked eye.
To begin with, when writing a thesis, an essay, or even a novel, there are many thoughts and ideas on the back of your head, which you struggle to put into writing, as they come. As soon as you've done with writing, you may look out for areas in which your thesis may need improvements. Nonetheless, the odds are you'll be unable to put the finger on the points that ask for enhancement. You simply stare at the paper and re-read it more than once, and it appears to be perfect since you directed a lot of energy and work into it.
Notwithstanding, the primary objective editing carries is to highlight the best aspects that feature a paper, while eliminating or diminishing the less engaging and witty elements. Concurrently, editing involves the removal of grammatical and structural errors, which often slip our attention.
To put it roughly, even though you do your best at noticing the elements that jeopardize your paper, you fail to see them, since you are unable to convey your writing from an objective angle. Hence, when a professional edit your dissertation or thesis, you won't believe your eyes that a myriad of mistakes and errors slipped your attention. An experienced editor will highlight the best in your paper and eliminate those points that are irrelevant and shadow the quality of your writing.
Secondly, you might want to avoid editing because it's time-consuming and demanding. It requires you to read a given material more than once and analyze in detail the way in which it is composed. When you proofread or edit your work as you should, with attention to detail, it can be time-consuming. You might be tempted to read your paper superficially, and take the worry off your shoulder, believing that you've edited your piece. However, you'll end up being disappointed that you failed to consider many aspects since you were rushed.
Dissertation editing services can make the difference between an average piece of writing and an outstanding paper. If you recognize that you're a perfectionist, and you want the final paper that you submit to be excellent, professional help is an aspect you should consider.
Hence, if you know that your free time is limited, but still want to obtain a good grade for your thesis, choosing our dissertation editing service is highly recommended. This alternative eliminates the stress and anxiety, and is readily available online, all you have to do is contact us, and we'll take care of the rest. In this way, you'll be able to obtain an excellent grade, impress your instructor, and have a thesis or dissertation that mirrors that you're academically prepared, and ready to conquer the world.
You aren't experienced in editing
Thirdly, editing is the job of a professional, and you cannot become an expert overnight. Editing and proofreading skills are obtained in time, through hard work and perseverance, as with any other skill. The writers from SupremeDissertations.com edited an abundance of papers, some lengthier than others.
Did you know that each kind of writing requires a particular formatting style? At the same time, each formatting style is featured by a range of guidelines concerning the style of writing, vocabulary use, the layout of the paper, reference requirements, and so on and so forth. Hence, if you wish to obtain an excellent grade, you are expected to respect these guidelines. A professional editor such as the ones from SupremeDissertations.com has extensive knowledge of these formatting patterns, which means that your thesis is in safe hands with us.
Still hesitating? Look at Our Advantages over Competitors